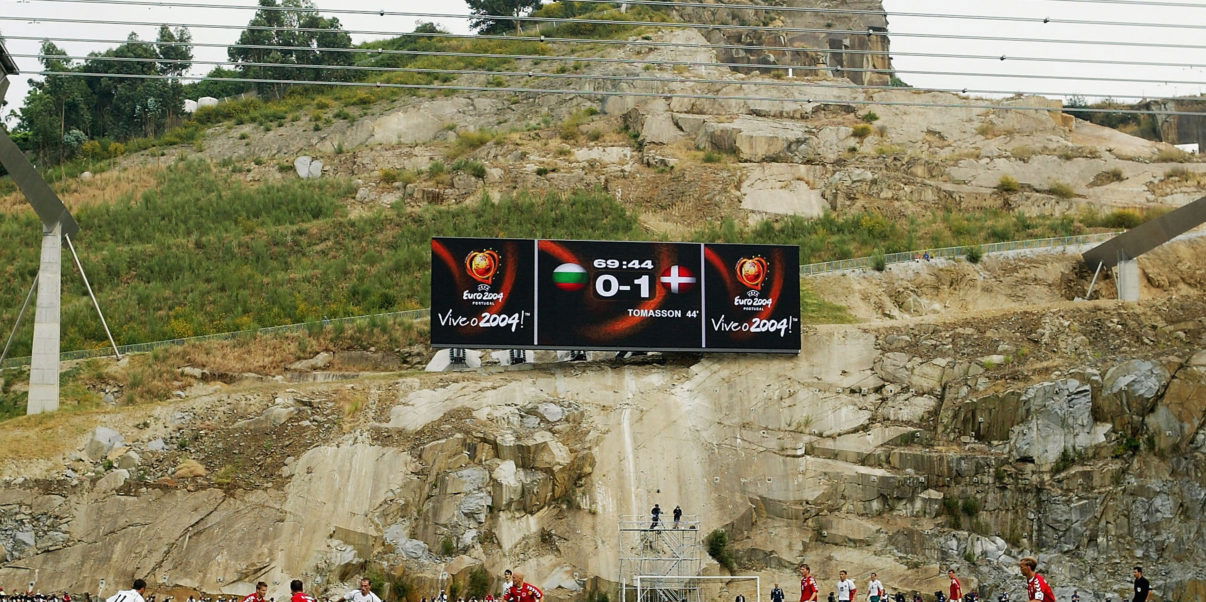 Most Amazing Stadiums in the World Part One
Should you celebrate any holiday this December in which you receive gifts and happen to come across a lucky lottery ticket or perhaps a wealthy family member, we have you covered. There are some incredible stadiums located around the world and we'll tell you where to find them so you can travel the world with a couple friends and family and kick it at the most amazing stadiums.
There are some criteria that had to be met to make this list, however. So as wonderful as the Allianz Arena is, it won't be on the list. One qualification is it cant be an exceptionally well-known stadium, most on this list would be lucky to seat one thousand people if that.
The last qualification is it has to be a stadium. That random field in the mountains that had sticks as the goals in a picture, doesn't count. A team has to or used to play at the stadiums on the list.
Pack your water wings, because in part one you might have to swim for that shot you put just wide. Also, stay tuned for part two where we journey into the mountains.
The Float at Marina Bay – Singapore
Instagram: https://www.instagram.com/p/BLOIP1vgM3b/?taken-at=1214055
The world's largest floating stage was created entirely out of steel and can hold up to 1,070 tons. The stadium can seat 30 thousand people so you and your friends can play in front of a crowd bigger than the average MLS stadium. The lifespan of the platform is 10 years and it was finished in 2017, so a trip sooner rather than later is ideal.
Eidi Stadium – Faroe Islands
Instagram: https://www.instagram.com/p/tTuzW-qG5b/
Another popular one, this stadium used to host a semi-pro team. I've also heard this stadium be called Vid Margair and plays host to EB/Streymur.
Pancho Arena – Felcsut, Hungary
Instagram: https://www.instagram.com/p/BLoTIMxh8bb/?taken-at=421544955
If Architecture is more your style, we recommend watching a match at Pancho Arena. We also recommend going at night as the lights give the stadium an even greater effect. The stadium opened in April of 2014 so unlike The Float, there's no rush. Good luck managing to play there though as it holds a professional club and has held Europa League matches as well.
Henningsvær Stadion – Lofoten Islands, Norway
Instagram: https://www.instagram.com/p/BK59pjAAHUK/?taken-at=334488364
Another stop you should add to your European tour, this stadium is located in a small fishing village. Its population is less than 500 and its standing room only for viewing, but 360-degree scenery more than makes up for no stands.
Tasiilaq Stadium – Greenland
Instagram: https://www.instagram.com/p/BLheAdxgNef/?tagged=tasiilaq
I'm not one for the cold, but for a chance to play at this stadium I'd be out there in a short sleeve jersey and no gloves if I had to. This stadium is so rural, there's no Wikipedia page for it and only one Instagram post. We encourage you to Google Image it, though.
Stade Omar Hamadi – Algiers, Algeria
Instagram: https://www.instagram.com/p/BLMdagTB-u4/?taken-at=261512939
Instagram: https://www.instagram.com/p/BA5eG5dtEdN/?tagged=est%C3%A1diosdefutebol
On one side you have the Mediterranean Sea. On the other, you have a massive hill with greenery and buildings. Sign me up to play for USM Alger.
Estadio Silvestre Carrillo – La Palma Island, Spain
Instagram: https://www.instagram.com/p/_jyCujJ9xD/
In case you're not a water person, we have you covered. Imagine driving through that tunnel in the mountains and all of a sudden, bam, a soccer stadium. It can hold 6,000 people and was remodeled in 2007. Sounds like a perfect time to play a few rounds of World Cup with your friends.
Brooklyn Bridge Park (Pier 5 Park) – Brooklyn, NYC, New York
Instagram: https://www.instagram.com/p/BIBIHFtBgNy/?taken-at=3997715
If you're a city fan, nothing could come close to this park in New York City. Some of the fields even seem Futsal size so it offers a range of matches. Although parts seem unfinished still.
Ingraliste Batarija – Croatia
Instagram: https://www.instagram.com/p/36cblXMPB4/
Playing soccer next to a mini castle? Yeah, I'll take you up on that. I've heard rumours that there's even a restaurant located in it for afterward.
Stadion Gospin Dolac – Imotski, Croatia
Instagram: https://www.instagram.com/p/BJ2pT6DhvDs/?taken-at=386094012
Instagram: https://www.instagram.com/p/4JvcJrJ982/?taken-at=386094012
Staying in Croatia and getting ready for part two we journey closer to the mountains. A more known stadium compared to some others it plays home to NK Imotski FC. It also has a nice ball return in the form of rock, so no more chasing shots that miss the net. Another great thing? You can check cliff diving off your bucket list as there's a mini lake right next to the stadium. We'd recommend having a local tell you the depth of it first or checking it yourself, however.
---