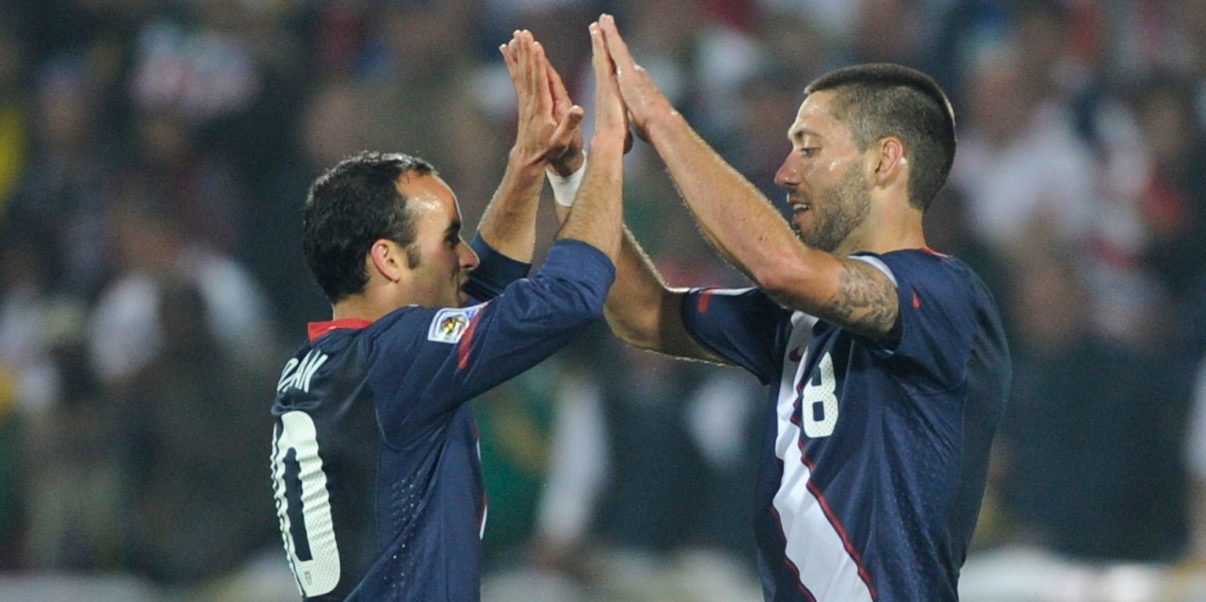 The Clint Dempsey Landon Donovan Debate: Who's the Best American Player?
Clint Dempsey's retirement last week has reignited arguably the longest lasting and most heated debate in U.S. Soccer. Who's the greatest American soccer player in our history? Dempsey or Donovan? The answer lies with what type of player you like and what part of their career is most important to you. Dempsey is a more rugged, fiery, vocal character while Donovan is a more chic, relaxed, quiet character. For me their careers can both be broken down into three aspects; overseas, domestically in Major League Soccer (MLS) and of course for the National Team. Here's how I break it down:
National Team Career: Landon Donovan
This will be the most debated one. Dempsey and Donovan are co-owners of the National Team goals record with 57. Dempsey fans will be quick to point out that he did it in 16 less appearances, and they're right. Here's why that doesn't matter, though. Dempsey's primary position is as a forward, it's expected that a teams striker will score plenty of goals. Donovan's primary position is a midfielder/winger. Everyone familiar with the sport knows its easier to score goals as a forward than it is as an attacking mid or winger. Donovan scored a goal every 2.75 games and Dempsey scored a goal every 2.47. If I'm creating a team today and I can choose between that production from a midfielder or that production from a forward, I'm taking the midfield production.
In addition, Donovan is the National Team's All-time assists leader with 58 compared to Dempsey's 21. Adding the goals and assists together, Donovan created or scored a goal every 1.36 games. Dempsey created or scored a goal every 1.81 games. Again, look at the production from a midfield/winger standpoint and that from a forward. If I'm school yard picking a team, I'm taking that production from Donovan.
In the accolades department, Donovan wins as well. He's won four Gold Cups to Dempsey's three, four U.S. Soccer Athlete of the Year awards to Dempsey's three, seven Honda Player of the Year awards to Dempsey's three, and three Gold Cup Golden Boots to Dempsey's one. Donovan also has a FIFA World Cup Young Player award and a Gold Cup MVP, none of which Dempsey has. Dempsey has a Confederations Cup Bronze Ball that Donovan doesn't have.
As for the intangibles, look no further than Donovan's 90th minute goal against Algeria in the World Cup that put the U.S. into the knockout stages. Yes, but Donovan wouldn't have scored that if Dempsey didn't first have the shot that was blocked and fell to Donovan, right? True, but who set up Dempsey's shot in the first place? Donovan and Jozy Altidore. Tim Howard starts the sequence distributing it to Donovan who passes it to Jozy and ultimately scores one of the most important goals in U.S. Soccer history. Speaking of World Cup goals, Donovan holds the U.S. record for most goals in the World Cup with five. Dempsey is just behind with four.
Dempsey scored more goals in our improbable run to the Confederations Cup final in 2009 and I applaud him for that. However, he also had a shot ricochet off the post in our final World Cup Qualifying game against Trinidad that would of sent us to Russia. Also, everyone gets on Chris Wondolowski's case (rightly so) for our loss to Belgium in 2014, but what about the missed opportunity by Dempsey? You take a lighter touch, or put the shot just about anywhere else and the U.S. is up 2-1. (1:35 mark on the video).
YouTube: BELGIUM v USA (2:1) – 2014 FIFA World Cup™
Overseas Winner: Clint Dempsey
I think it's safe to say Dempsey had the better overseas career. He has the record for most Premier League goals scored by an American with 57 and played a massive role in Fulham's run the Europa League final in 2010. After going down 3-1 in leg one of the semis, Dempsey's chip over Juventus goalkeeper Antonio Chimenti gave Fulham the 4-1 win in the second leg and a trip to the final. In total Dempsey made 218 Premier League appearances between Fulham and Tottenham Hotspur.
Donovan's overseas career is a separate debate depending on your views. He struggled early in his career at Bayer Leverkusen and Bayern Munich but later was loaned to Everton twice where he won two club Player of the Month awards. Everton wanted to bring Donovan to the club, but Donovan declined and stayed with the Los Angeles Galaxy. The stats aren't great, 30 appearances between the Bundesliga and Premier League and just two goals. But ask any Everton fan about Donovan and none will hesitate to say he was great for them.
YouTube: Clint Dempsey v Juventus
Domestic (MLS) Winner: Landon Donovan
Another obvious one, Donovan wins the MLS debate. I mean, the league MVP trophy is named after him. Everyone knows the stats and honours, 6-time MLS Cup Champion, two Supporters' Shields, two MLS Cup MVP's, one league MVP, a Golden Boot and the leagues All-time leading goal scorer and assists leader with 145 and 136, respectively. For me, though, his biggest impact was his impact on growing the league. Donovan first joined MLS in 2001 just five years after the league started, six years before The Beckham Experiment was even a thing. Donovan played on a grandfathered contract allowing the league to pay him as much as they wanted because MLS knew they had to keep Donovan in the league to gain popularity. Soccer in America was not remotely popular in 2001, it wasn't and for some still isn't considered a major sport in the U.S. (though statistics now say otherwise). Along with this, soccer players young and old were routinely the subject of jokes and harassment's. Needless to say, MLS was fighting a losing battle in the early stages of the league and desperately needed a poster boy (like all leagues do/did). Enter Donovan, probably the only recognizable American soccer player to many at the time. He provided a huge marketing boost for the league which eventually led to another massive marketing move in David Beckham. Beckham joined the Galaxy and MLS for three reasons; the market, the ability to own his own franchise, and to win. Donovan played a big part in the third reason. Beckham knew joining the LA Galaxy and partnering up with Donovan (and eventually Robbie Keane too) would lead to trophies. Donovan originally even gave up the captains arm band to please Beckham, something unheard of at the time. Basically, Donovan saved the league from failing in the early stages and Beckham propelled it to global recognition in 2007. I'd say those are equally important in the leagues history.
Dempsey joined the New England Revolution in 2004 before leaving for the Premier League in 2006. He then finished his career with the Seattle Sounders between 2013-2018. He finished with 72 career MLS goals and won an MLS Cup and Supporters' Shield.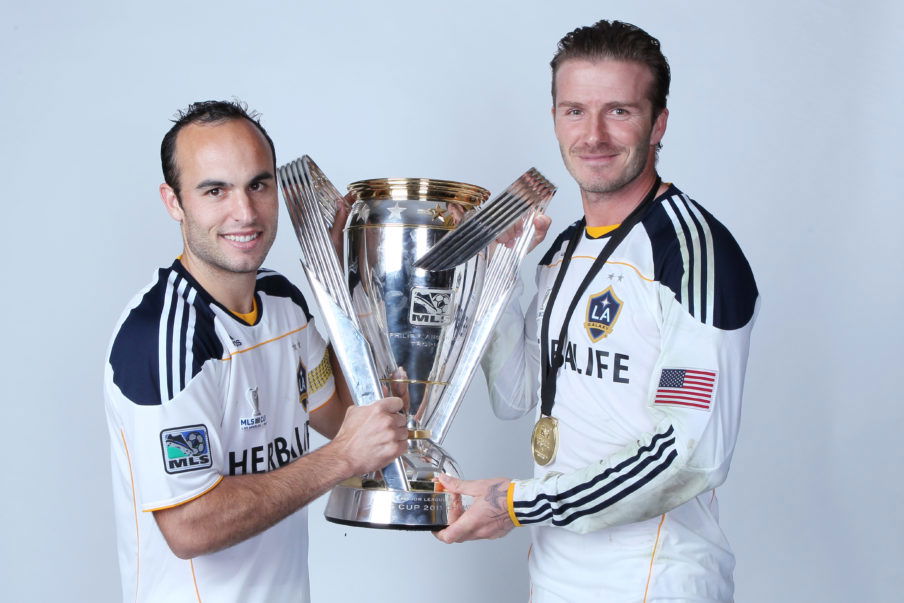 This will always be a debate in U.S. Soccer. And it will probably be split nearly 50/50 as well. I've never met a Donovan fan who's said Dempsey is better and I've never met a Dempsey fan who's said Donovan is better. I believe Donovan is the better player and I have the stats and accolades to back it up. At the end of the day, though, the winner of this debate is whoever your favorite player of the two is, because none of us are going to change each others minds.
---